Give moments that last
It is true that we should celebrate love every morning, but there is nothing wrong with doing it in a more special way on those specific dates by giving different and original romantic gifts. Now there is no need to give a book, an Amazon wallet card or anything material.
Give your partner original and romantic moments to keep in your heart. On the Costa Brava you will find the spark you've been waiting for.
The Costa Brava offers the most beautiful spots along the Catalan coastline. If you want to surprise your partner, a romantic boat trip along the Costa Brava is a guaranteed success.
Whether it is for a special date such as Valentine's Day, an anniversary, a birthday or any celebration as a couple, we will tell you about some very original plans to celebrate that special day.
Giving the gift of an experience at sea can be a unique and exciting way to celebrate Sant Jordi's Day. This holiday, which is celebrated on 23 April in Catalonia and other parts of Spain, combines the commemoration of the patron saint of Catalonia, Saint George, with the Day of the Book.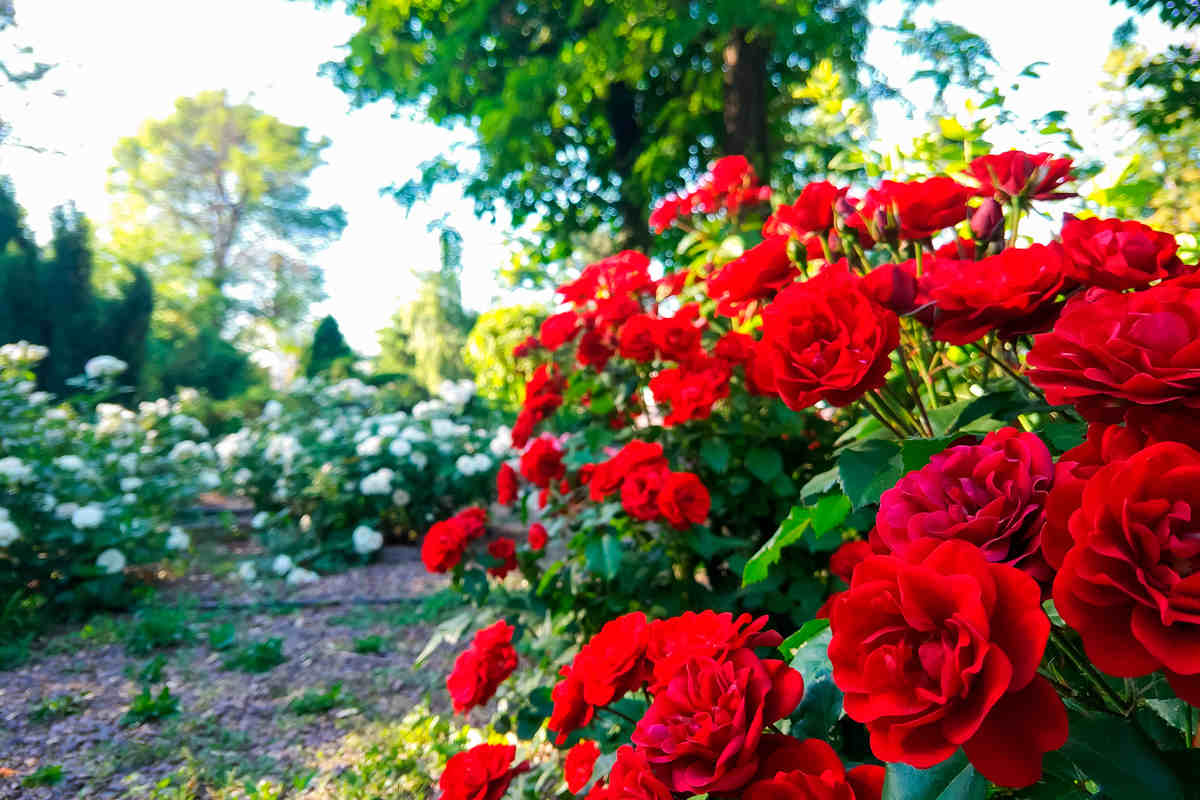 Instead of giving books and roses, why not consider giving an experience at sea? You can surprise your loved ones with an exciting adventure at sea. The sea offers a wide range of experiences to suit all tastes and budgets. From a sport fishing trip to a day of snorkelling in the crystal clear waters of the Mediterranean, the sea can be an exciting and relaxing place to enjoy a unique experience. What's more, an experience at sea is an unforgettable gift that your loved ones will treasure forever. It can be an opportunity to create wonderful and lasting memories and to share special moments together. In short, giving an experience at sea on Sant Jordi's Day is an original and exciting idea that can be enjoyed by all ages. Whether you are looking for intense emotions or simply enjoying the tranquillity of the sea, a sea experience can be a gift that your loved ones will never forget.
Unforgettable experience as a couple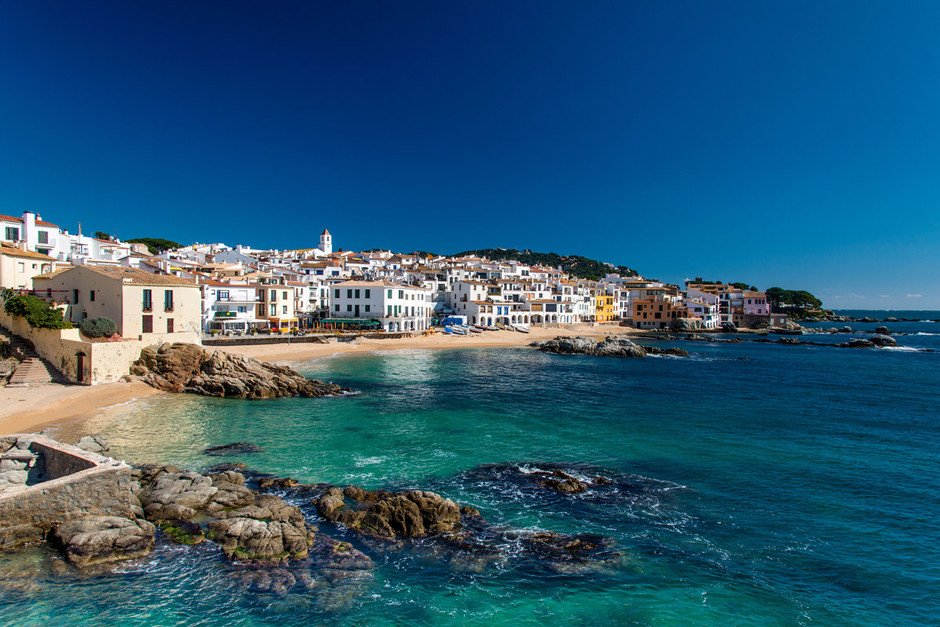 When you've been with someone for a while, you start to neglect details, almost without realising it, between work, home, children… There is more and more noise and it is more difficult to enjoy quality time as a couple. That's why a romantic and original experience is the perfect gift to escape from routine.
The original gift ideas we propose can make you disconnect from the world and reconnect with each other in an almost magical way, and some of them we have exclusively at AMP Charters.
Boat trip along the Costa Brava (Platja d'Aro)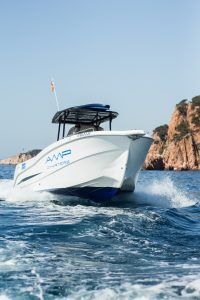 Whether it is to be enjoyed in the off-season, when the environment is quieter, or during the summer season when the weather is warmer, a romantic boat trip is the gift of an experience to be remembered.
Our boat, fast, safe and comfortable, allows us to discover the privileged environment that surrounds us in an excellent way. We are located in Port d'Aro (Platja d'Aro), in the heart of the Costa Brava.
Plan together with your partner and share the days leading up to the activity with your partner by researching and discovering what to visit when you do the activity.
A professional skipper will guide you through the best places in the area while you enjoy the experience. We have different schedules to suit your plan:
From 380 € all inclusive (Skipper, fuel, paddle surf, sea scooter, snorkelling equipment, water, 1 soft drink/beer per person and a complimentary snack with chips and olives).
In the morning the sea is usually flat and is perfect for a swim in a natural pool, we recommend that you accompany your romantic activity with an aperitif and cava. You can also enjoy an afternoon outing or "the original romantic gift" of watching the sunset embraced and with spectacular views and toasting with champagne. Oh, and don't forget to immortalize this moment of love with a photo against a luxurious backdrop, such as the Castle of Tossa de Mar.
We have paddle boards, snorkelling equipment and a sea scooter for you to make the most of the moment. And if you want more, we have full-day excursions and a special tour to the Medes Islands.
Once the activity is over, Platja d'Aro offers you all the services you need to end the evening in the best possible way. There are restaurants of all kinds and if you want, you can even find the Mediterranean food typical of the area, or have a drink in one of its renowned pubs.
Advantages of the boat trip
But why should you go on a boat trip? Well, boat trips have advantages such as the following:
It is relaxing. The tranquillity it offers can hardly be bought with other activities.
The views and the landscape. Seeing the coast from a different point of view to the one we are used to is a magical spectacle, with its cliffs and lights.
It is very romantic. Sunsets from the sea, the sound of the water? What more can you say?
Having fun and enjoying quality time in a magnificent setting, magical moments that make us feel more alive than ever. You can bring pets. Pets are allowed on board our boats as long as they comply with the minimum safety measures required.
Romantic places on the Costa Brava
Here are some of our clients' favourite coves, coves that you can visit with AMP Charters' boat trips:
Cala Pola
At 6 kilometres from the centre of Tossa de Mar we find this cove with crystal clear water surrounded by pine trees, cork oaks and other vegetation that surrounds it. The beach is large sandy and turquoise blue background, thanks to the reflection of the vegetation and its sandy bottom.
It is undoubtedly an ideal cove to spend the day enjoying the landscape and the tranquillity it offers. It also has a hut where you can have a drink.

Platja Castell
Cala de Castell is located in Palamós, in a place considered to be an area of natural interest of about 100 hectares. It is surrounded by pine trees and out of season it is a very quiet and welcoming cove. Its fine sandy seabed makes it safe. In addition, its orientation means that it is protected from the tramontana wind.
At the top of one of its cliffs we find an Iberian settlement dating from the 4th century BC, just above La Foradada (a cave that crosses a cliff).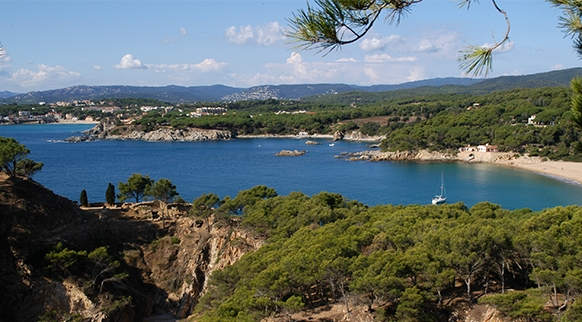 Cala del Senyor Ramón
This cove, classified as nudist, belongs to the municipality of Santa Cristina d'Aro, although it is located between Sant Feliu de Guíxols and Tossa de Mar. It has an abrupt and wild appearance due to its cliffs of up to 80 metres high and the different rock formations. The difficult access by road makes a boat the ideal means of access.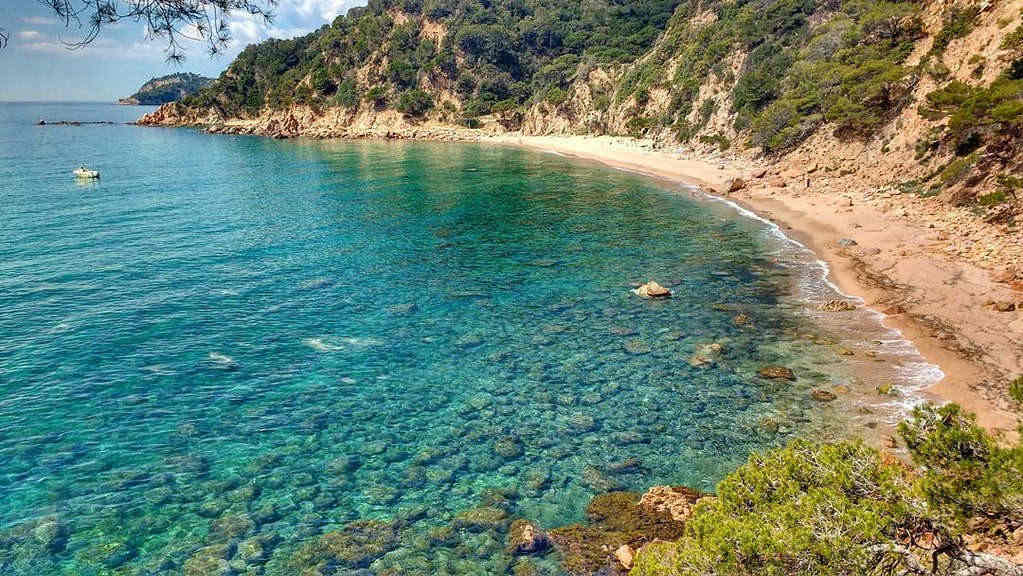 Aiguablava
Aiguablava is the last beach belonging to Begur, located to the south of Fornells. Like most of the coves in this municipality, its geographical location is truly privileged. Its crystal-clear waters are shallow and its sand is fine and clear.
Perhaps that is why this corner of the Costa Brava offers a feeling of cosy warmth. Its natural surroundings are almost unspoilt. From the seashore, to the north, you can see the Cape of Begur, a majestic cliff.